Community - Term 4, Week 1
Posted on October 19, 2017
by Admin 6
Storybook Walk – Thalassa Park
Hi All,
The 'Storybook Walk' at Thalassa Park features characters from classic Australian children's fiction including  'Mulga Bill's Bicycle', 'The Magic Pudding' and 'Storm Boy'.  
On Sunday 4th March, 2018 the newest installation will be unveiled – 'Grug' by Ted Prior – with an exciting Family Fun Day involving multiple interactive activities, and stalls for children and families.
Ted Prior, the author, will be attending, reading 'Grug' to his fans!   We will have coffee, roving performers, face painting and other exciting things to do!  
We need your help to put on the best day for our community and wonder if you would like to be part of the fun?
To be involved you would need to develop a fun, interactive activity for children aged 2-6 years.  In return you will have the opportunity to connect with families in our local community in a fun, informal setting.
Please register your interest by November 15, 2018.  

Regards,
Kathrin Davidson
Coordinator Hub library
City of Onkaparinga Libraries 
Ph (08) 8384 0100
Fax (08) 8384 0111
www.onkaparingacity.com 
---
Spikezone Aberfoyle Park Term 4 Schedule:

Free come and try – 24th October - 4-5pm (week 2)
Free come and try –31st October - 4-5pm (week3)
Free come and try –7th of November - 4-5pm (week 4)
Term 4 Season Starts- 14th of November - 4-5pm (week 5)
Term 4 finals- 12th December- 4-5pm (week 9)
Spikezone is the modified version of Volleyball providing a great introduction to the sport in a safe and supportive environment for students in years 4-7 (7-13 year olds) to help them to give this great sport a go!
If you would like any further information or like to participate, please contact Leeanne Hackett on 0408 830 506.
Life Education is coming!
---
Hills Vet Centre Open Day - See link below

---
Life Education
Dear Parents

Life Education wants young people to live safe and healthy lives. Your school has chosen to partner with the team at Life Education to support school based drug and health education. 
Each class will have the opportunity to experience the unique, fun and exciting learning centre, and in addition, we will provide your school with a comprehensive set of resources to continue delivering positive health messages throughout the year.

Incorporating a combination of Samsung technologies, star studded ceilings, engaging learning experiences, movies and more, students will leave our Mobile Learning Centre with a magnificent memory that will last a life time.
Life Education has been providing positive health outcomes for kids for over 30 years.  We provide a unique learning experience for children instilling in them the skills needed to make informed decisions about their health and wellbeing, covering topics including:
Healthy Harold, the much loved Life Education giraffe mascot is always a highlight. The sessions are fun, interactive and will extend the children's understanding of the topics covered. Our programs are designed to grow, develop and change with the children as they navigate through their own life journey.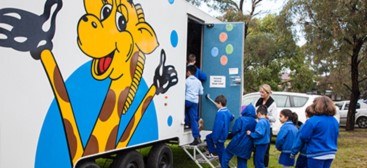 Class teachers will be able to give you information about which module your child/children will be participating in. You can also access our extensive range of parent information from our website at www.lifeeducation.org.au.
From the team at Life Education
---
SHIM JANG Taekwondo - Aberfoyle Park - see link attached