Newsletter - Term 4, Week 4
Posted on November 10, 2017
by Admin 6
Principal's News – Term 4 Week 4

Time Capsule Opening
It was great to see so many attendees at our recent time capsule opening – ex students, teachers and members of leadership. There was an incredible amount of work behind the scenes to make this such a successful event and I would like to take this opportunity to say a special thanks to Narelle Hodgson, our Chair of Governing Council, who kept us all on track and pulled it all together, and to Ken Harrington, also from our Governing Council, who produced the fabulous powerpoint presentation. In addition, I'd also like to say thank you to the Flagstaff Hill Rotary Club who provided the afternoon tea. The event gave community members, old and new, a chance to re-connect and also an opportunity to 'relive' the 1990s when they looked through their old work. 
All of our current classes have now completed work to go back into the time capsule, to be opened in 2037! See you then!     

What else have we been up to?
The term continues to be extremely busy, with lots of learning opportunities having already taken place.  The Year 5 classes visited the Zoo, and the Y6 and Y7 classes had a great 2 days at Noarlunga experiencing a range of aquatic activities. We have had basketball clinics running for the past 2 weeks which has seen many of our students improving their skills and enjoyment of the sport. Last week we had Music Count Us In, with accompaniment from the Y3 & Y4 classes on recorder. This week, the majority of our classes have been working with the Life Ed crew, in the van parked near the Gym. 
On Friday, we held a short Remembrance Service in the Gym to show our respects not only to those who fought in the First World War, but also those who have died as a result of war since then. Three of our students will also be representing the school at the Rotary service on Saturday. 
Reception Transition
We had our first transition visit on Friday, 3 November. It was wonderful to see our new students taking part in activities within the Reception classrooms. The transition visits build upon the strong links we already have with our local Kindys, which have seen our current Reception classes regularly visit, as well as the Kindy children coming up to the school. With 4 more visits to go, I'm sure the new students will enjoy getting to know the school even more and look forward to starting in 2018.
Student Free Day  
On Friday 20th October, we had our final student free day for the year. This was an excellent day of Professional Development for staff, which started with focused learning on Digital Technologies. We then moved on to a session on how to interrogate data and year level work on analyzing Naplan, PAT and Running Record data. The Reception – Year 2s also had a healthy discussion around common literacy agreements in reading and spelling. The final session was used to review our current Site Learning Improvement Plan and, using the information from the data analysis, identify focus areas for 2018.
Last week we had Jan Polkinghorne from SPELD run a session for our Reception to Y3 teachers on spelling. This was an area of need identified from our Pupil Free Day. The session was excellent and has given us lots of ideas to think about. We will be following up with staff this week to plan how to move forward in this area. Thanks to those teachers for attending an extra meeting during the busy report writing time!
This week during our staff meeting, Catherine Vear, our DECD Disability Co-ordinator, ran a session on Autism for all of our staff. (more info …..)

2018 Classes
We look set to go with 23 classes next year and all classes will be single year levels: 
                         

3 x Rec                               
4 x Year 1                                                      
3 x Year 2                           
3 x Year 3  
3 x Year 4      

3 x Year 5
2 x Year 6

2 x Year 7

We are working closely with HR to finalise teacher placements, and hope to be able to announce teaching staff in the next newsletter.
Due to the planned increase in classes, there will be a change of role for Gareth, who will be returning to the classroom in 2018. Gareth will continue to support student wellbeing up until the end of week 5 this term. After that, wellbeing concerns can continue to be directed to Sarah Ross-Woolhouse, our PCW, and to myself at jane.waltham667@schools.sa.edu.au
Our specialist subjects will be continuing in 2018, with Japanese, PE and Arts (Music, Dance, Drama and Media Arts). Visual arts will remain part of the class curriculum.


News from DECD
1 More special options places for students with disability.
A further 154 places in special options (disability units/special classes) will be created for children and young people with disability over the next 2 years.
A consultation process is underway to select the preschools and schools that will offer these options. The placement process and eligibility criteria for placing a child/young person in a special option has not changed. If you need more information, contact your local school or preschool. 
The state government is also introducing a new $3.2m statewide service available to all school sectors to manage complex and challenging behaviours through consultation and intervention, with health support planning for families.
The initiative is part of the state government's new Public Education Action Plan: Your Child, Their School, Our Future.
2 New attendance strategy to help South Australian students excel
A new attendance strategy has been developed to ensure the state's 168,000 public school students achieve the best possible education.
To support the strategy, an additional 11 attendance and engagement social workers will be available to help schools work with students and their families, with this 50% increase bringing the total of workers to 33.
The attendance strategy will guide the efforts of preschools and schools to engage children and young people to stay at school.
The initiative is part of the state government's new Public Education Action Plan: Your Child, Their School, Our Future.
3 New strategies to help SA students become globally competitive
More students will be able to learn a language at school and be better prepared for the jobs of tomorrow under 2 new state government strategies. 
A new $12 million Languages Strategy will give students better access to language learning, more support for teachers to deliver language education and an increased number of qualified language teachers in public schools.
As part of this, grants of $80,000 over 2 years will be available to schools to trial innovative ways of delivering languages.
Each public school in the state will also be guided by a $3.8m Internationalisation Strategy to help teachers prepare students to be globally competitive.
These initiatives are part of the state government's new Public Education Action Plan: Your Child, Their School, Our Future.
4 Changes to school card eligibility
The state government is raising the school card income threshold from next year to help families with the cost of living. This means that families with 1 child and a gross income of $57,870 in the 2016-17 financial year will be able to apply for a school card. 
Application forms for 2018 will be available from schools or www.sa.gov.au by the end of the 2017 school year.
5 Supporting our teachers and leaders to deliver great results
The state government has announced a range of new initiatives to support our teachers and leaders to deliver great results for your child.
Teachers and leaders will be supported by:
• the recruitment of an additional 10 education directors
• the development of a Teaching Excellence and Leadership Academy in SA to lift school and preschool performance 
• a new $2.85 million Employee Wellbeing program to enhance the range of support offered to teachers, leaders and support staff.
The initiatives are part of the state government's new Public Education Action Plan: Your Child, Their School, Our Future.
6 More support for students to achieve their best
New funding of $27m over the next 4 years will go towards supporting our most vulnerable students and their families. As part of this, an extra 16 wellbeing practitioners will be employed to support children and young people most at risk. In addition, 3-quarters of public schools will receive more support from student wellbeing leaders.
In another announcement, more than $16 million will go towards helping public schools better support students with complex behaviours. An extra 10 behaviour coaches will be introduced to the existing 30 currently working in schools. The reforms will also provide therapeutic intervention for high needs children and support will be provided for students experiencing severe trauma or chronic stress.
This work will be underpinned by a new anti-bullying strategy.
These initiatives are part of the state government's new Public Education Action Plan: Your Child, Their School, Our Future.
Jane Waltham
Acting Principal
---
Ignite Registrations for Year 6's – Aberfoyle Park High School

---
Pedal Prix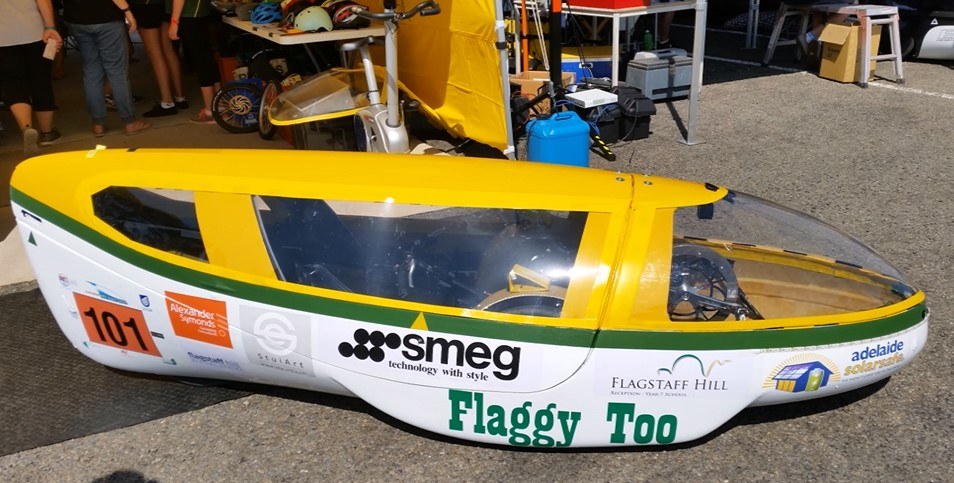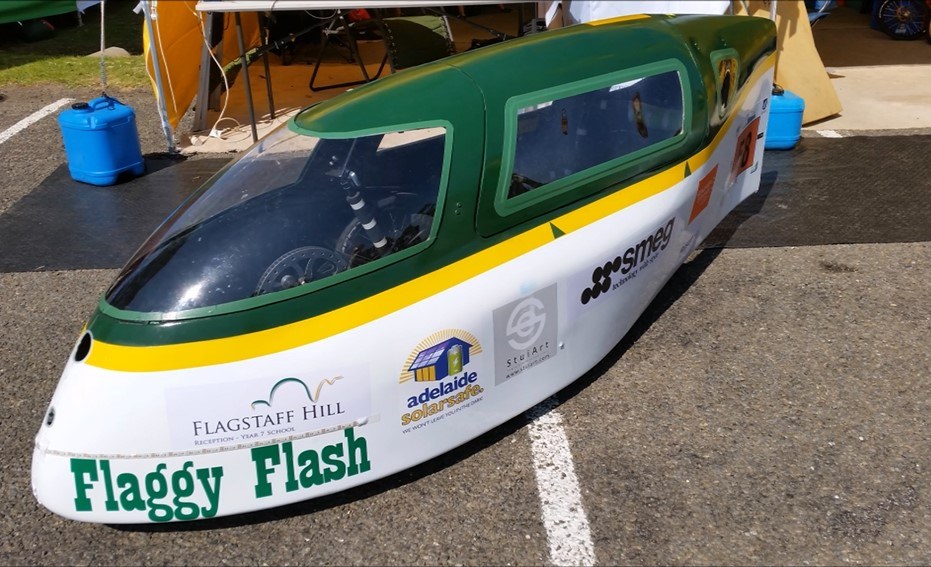 Pedal Prix is a fun, fast sport that Year 6 and 7 students can participate in. It involves pedalling in a rocket-shaped car around a bitumen race track. The track is made up of tight turns, big hills and flat straights. Many Primary Schools, High Schools and Universities participate in the three big races that take place over the course of the year. The first two races are six hour races and the last race goes for 24 hours.
Flagstaff Hill has done Pedal Prix for many years now. We have two cars at the moment and both of them are brand new. Each car is fast and furious when racing.
Our fastest car, Flaggy Too, is low to the ground and streamlined. It is easy to pedal and gains power really quickly. The other car, Flaggy Flash, zips and dodges around all the other cars on the track. This car is a bit bigger than the Flaggy Too which means that the rider has a bit more room to move around in it. Both cars and the riders in each vehicle do our school proud when practicing or racing.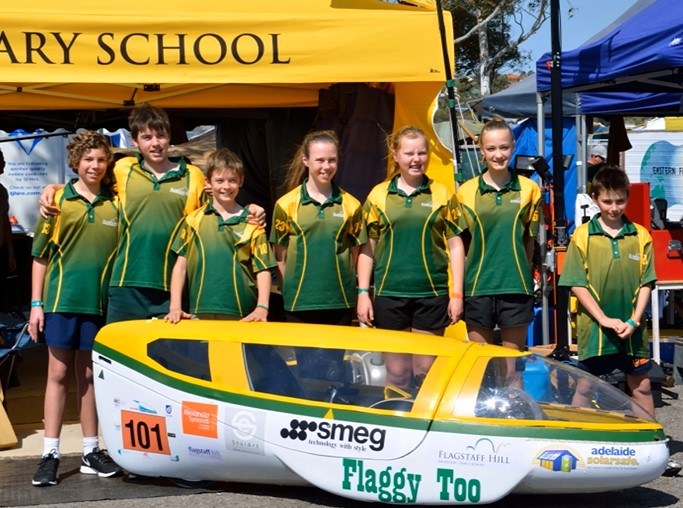 1st Six Hour Race –
This race is held at Victoria Park, in the city. Lots of people go there to watch and to participate. This race for me was all about getting back into the hang of things. It was a really fun race that had lots of highlights. Some people rolled the car which scratched the outside of it. No riders inside the cars were injured, luckily. There was a sharp corner on the track that everyone called, 'Crash Corner'. The paint jobs on the cars don't last long when going around there. Both of the cars placed well and some riders got personal best times.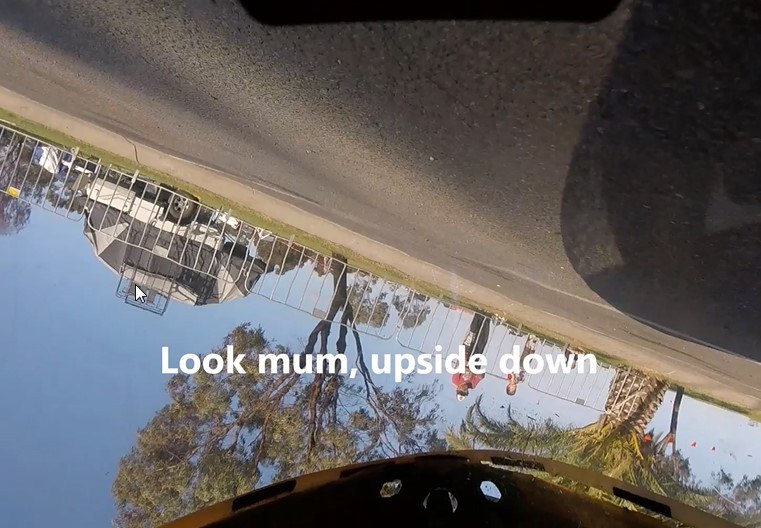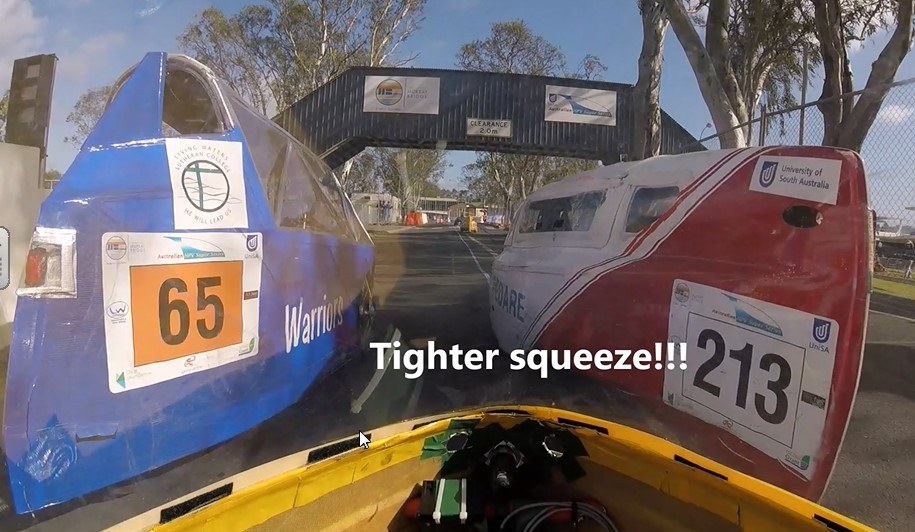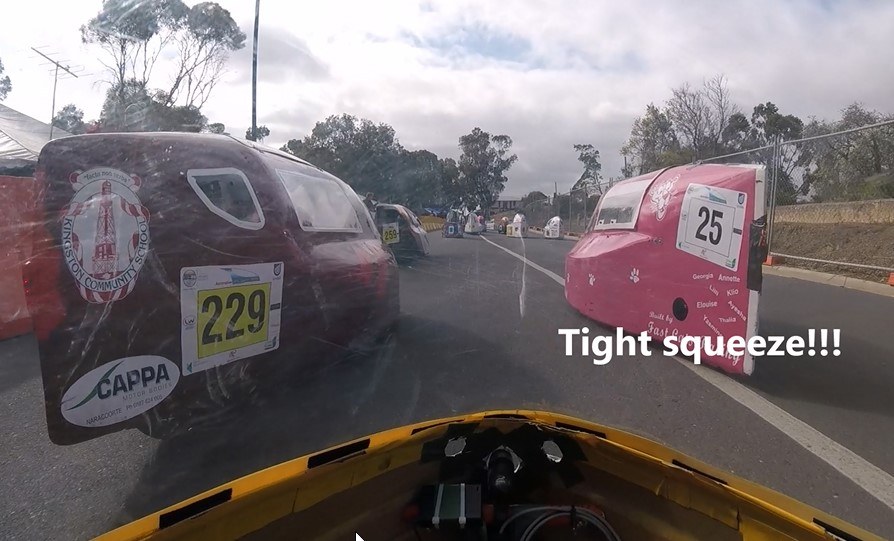 2nd Six Hour Race –
This race was a bit more eventful than the other one. There were more crashes and someone from our team was knocked unconscious when they rolled the car. It shows that Pedal Prix can be dangerous at times but still fun. Rolling the car is an experience and it is really cool when it is caught on video.
Our team also did well in this race even with all the flat tyres and mechanical issues that arose over the six hours. Paul and Steve did a great job at fixing them though. All the riders pushed themselves really hard to achieve personal bests and beat other team mates.
There was a bit of a competition between a few riders to see who could get the fastest time overall. By the time the race had ended, the two cars were slightly scratched and dented. We all knew though, that those scratches obtained at the two races were nothing compared to the scratches that were about to be added at Murray Bridge.
24 Hour Race –

This extremely long race is held at Murray Bridge every year. This year it was held on the 23rd and the 24th of September. The track at Murray Bridge is longer and has more hills than the one at Victoria Park. There are two 'Crash Corners' there instead of one, which means double the scratches and dents.
This year on Saturday, the day we started the race, there was bad weather. The race was cancelled for 4 hours because of huge wind gusts. The BOM said they reached 90km/hr. Our tents were flying all over the place! Because of the wind, there were some problems with the roster. Six riders from each car had to split two hours of riding between themselves. Flaggy Too got a flat tyre which meant that I had to miss out on my riding time. I didn't mind though.

Once the roster returned to normal, it was night time. Lights turned on around the track, illuminating the cars to onlookers. At around 10pm, another disaster struck. Someone crashed their car from another school and the rider broke their ankle. The crash happened at a skinny part of the track which meant that there was a huge blockage. I had just started riding in the car for the first time when the crash happened. Because of the crash, the race was cancelled for another two hours.

At 2 o'clock in the morning, I was rostered on to ride again. I really did not like getting up at that abnormal hour and I don't think anyone else did either. It was pitch black outside and very cold. The wind had calmed down a lot which was great and at our tents, it was very quiet. Mrs Broadley finally got to have some shut eye and she was still asleep by the time my shift ended. Nothing much happened in that time slot.

 Finally, daylight arrived. When I got up and went over to the tents, there were a lot of very tired people walking around. It was a bit like a zombie apocalypse. The race was still going and both our cars were in really good positions. In the last six hours, there were lots of crashes. All the riders put in heaps of effort and lots got their personal bests. Parents made deals with their children. The deal was if they could get under a certain time then they will get a reward. Once the race ended, we got to tip water onto the last two riders. They were lucky ducks!
Overall, pedal prix is a great experience. Our school does extremely well in it and all the riders have a blast. It is great fun spending time with friends outside of school and participating in sport. I hope that pedal prix is around for many years to come so that kids can enjoy all the things we have enjoyed.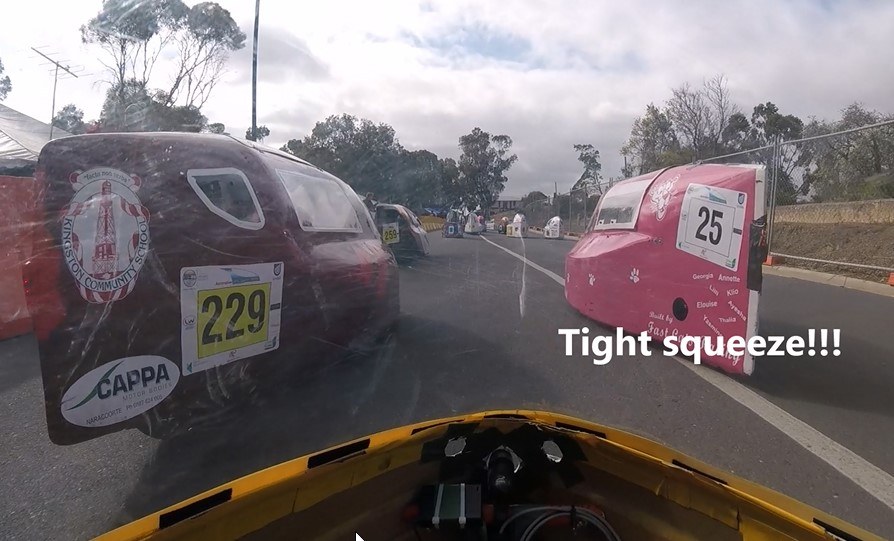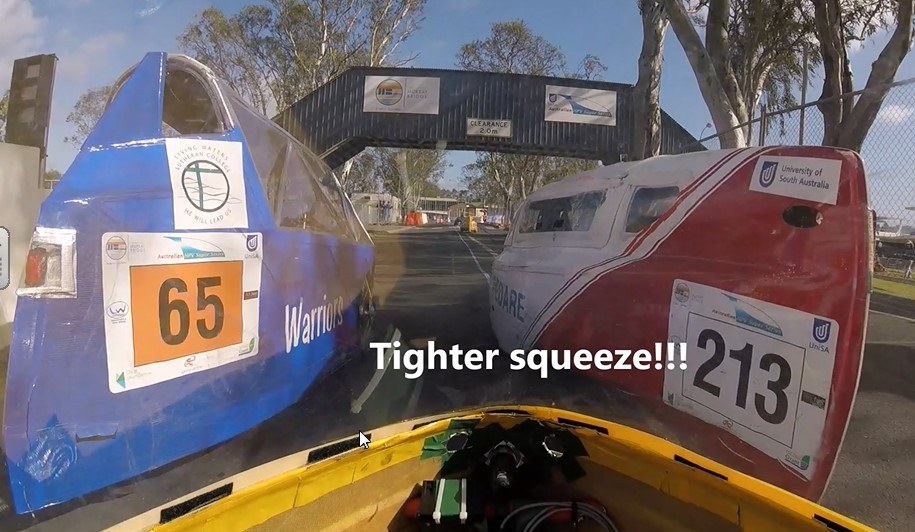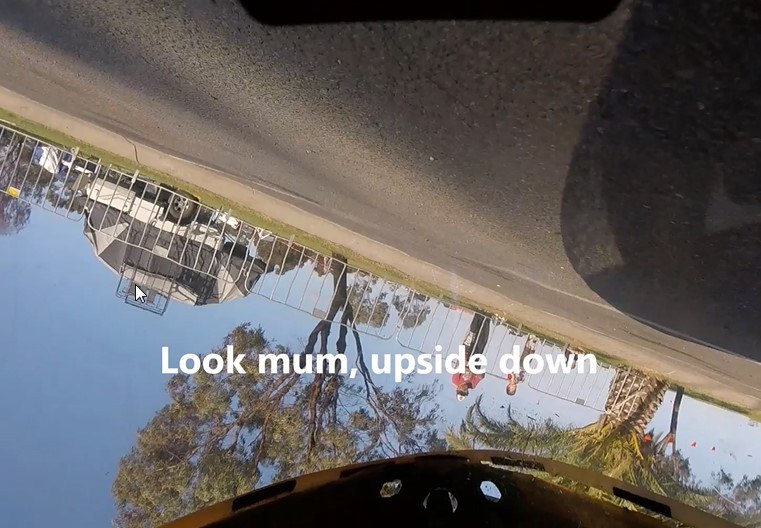 We would like to thank all of our sponsors for their support over the year:
Alexander Symonds
Adelaide Solarsafe
StuiArt
Smeg
Flagstaff Hill Medical Centre.
By Charlie Scutchings
Year 7
---
After School Sports – Registrations for 2018

Is your child wanting to play Basketball or Cricket next year for the school in Term 1?
We will be taking Registrations for our Basketball and Cricket teams for 2018 during the School Concert Evening on Tuesday 28th November. 
Sign up then to reserve your spot!!
Registration Forms will be available for you to complete at this time. No payment is required until February 2018!
Please see Jamie Burnside outside of the gym.
Don't forget to include your email address to allow us to be in contact to finalise payment and teams.
After School Sports Committee
---
 After School Sports – Convenors needed for 2018
We are very lucky to have such great support from our volunteer parents and caregivers to help with the running of our After School Sports program at Flagstaff Hill R-7 School. After helping out for a number of years, some of our current Convenors will be stepping down from these roles next year. If these are not filled, we will be unable to offer these sports next year.
We are currently looking for a parent or parents to help out with the following sports for 2018:

·         Cricket (Terms 1 & 4)
·         Netball (Terms 2 & 3)
If you would like some more information about what is involved with these roles, please contact either Leeanne Hackett on 0408 830 506 or Jamie Burnside during school hours.
The After School Sports Committee would like to thank Andrea, Tanya, Carolynn & Julie for their time and commitment to help run these sports for us over the last few years.
Leeanne Hackett
After School Sports Coordinator
---
Resource Centre News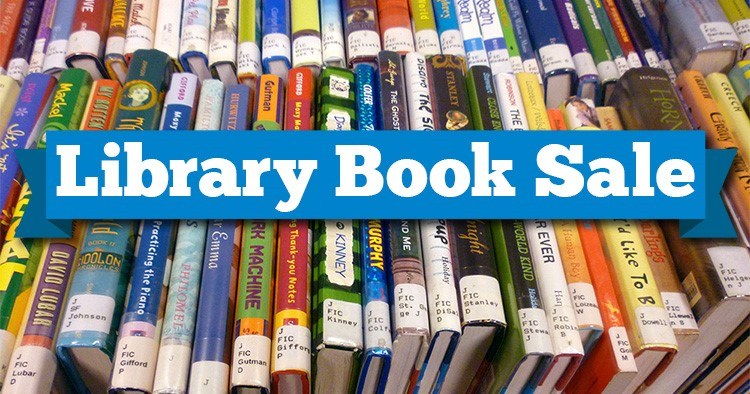 Giant Deleted Book Sale!
It's time once again for the big "Deleted Book Sale"!   Come along and grab a bargain!  First and Second lunch Wednesday 15th of November.   Most items only 20c!
Donations
Do you have any old "G" rated DVD's you no longer want or children's books that are no longer being read?   If so you can always donate them to the Resource Centre!   Games and puzzles are also accepted!
 Mrs Fuller…..Librarian
04/11/2017
---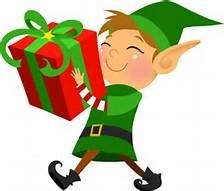 Christmas Concert Family Order Form
Orders and money to be returned to the canteen by 21st November 2017

Christmas Concert Order Form 2017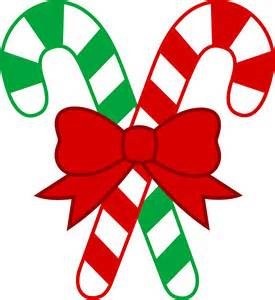 ---